Rembrandt Teeth Whitening Review
Rembrandt whitening products are well known for both effectiveness and quality. This review will cover three different products: Rembrandt Whitening Strips, 2-Hour Whitening Kit, and Deeply White Fluoride Mouthwash. We will first provide a general overview of the product and then give our own evaluation and rating based on quality, price, and most importantly, whitening effectiveness.
1. Rembrandt Whitening Strips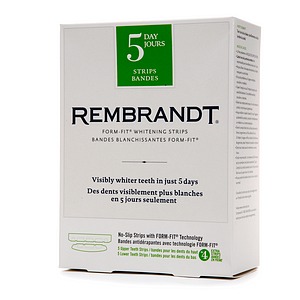 If you have not heard of teeth bleaching strips before, they are one of several new whitening innovations of the past decade. Rembrandt whitening strips are a prime example of how the technology has matured into a powerful and safe tooth bleaching method. These form-fit strips stay in place by conforming to the curve of your teeth to provide comfortable and uniform whitening. The strips use enamel-safe bleaching ingredients that are identical to what dentists use. Application time for Rembrandt whitening strips is 30 minutes, once a day, for 5 days.
Our Analysis of Rembrandt Whitening Strips
These strips have several edges over the competition. First, the strips are solid and well designed to stay on your teeth for the 30 minute duration without slipping. The once-a-day 5-day treatment time is shorter than most other strips, which often require two applications a day. The whitening is quite good and customers report a high success rate. The one downside is that some people experience teeth or gum sensitivity, but this is true of just about any whitening strip. If you have sensitive teeth, we recommend you use a toothpaste designed to reduce sensitivity, several days prior to starting with Rembrandt whitening strips.
In conclusion, Rembrandt Whitening Strips get a 4.5/5 as quick and effective whitening strips that should give you a several shades of whitening in 5 days, or maintain your current whiteness with periodic use.
2. Review of 2-hour Rembrandt Whitening Kit
This Rembrandt whitening kit promises whiter teeth in just a single at-home treatment. The peroxide-based gel rapidly removes both surface stains and deep stains in one 2-hour treatment that makes it ideal for use before an important meeting, interview, or big date.
One Customer's Feedback of the Rembrandt 2-Hour Whitening Kit
Our Analysis of The 2-hour Kit
This kit is somewhat unique in that no other whitening product promises whiter teeth in just a single 2-hour treatment. If you are in need of immediate whitening then Rembrandt Whitening Kit may be the perfect product for you but as a general whitening product it falls slightly short of perfection. First, it does not whiten as much as a conventional 2 week (or more) teeth bleaching gel treatment. However, considering the time it takes, it does quite well and should get your teeth several shades whiter. In practice if you want to maintain your white teeth you will need to repeat the treatment around every 3-6 months but this is no surprise. Also, the gel is quite strong and if you know your teeth or gums are very sensitive then you may want to use a toothpaste designed for sensitivity prior to this Rembrandt tooth whitening kit, use less gel, or just consider a different product.
In conclusion, we give Rembrandt 2-hour Whitening Kit a 4/5 stars as the only 2-hour at home teeth bleaching kit of its kind. It generally does the job but don't expect a miracle in just 2 hours and there may be lingering sensitivity.
3. Deeply White Mouthwash
Rembrandt whitening mouthwash actively restores tooth enamel with sodium fluoride and whitens and removes stains with hydrogen peroxide. The minty flavored mouthwash also kills germs and freshens breath.
Our Analysis of Rembrandt Deeply White Mouthwash
Rembrandt Whitening mouthwash is one of the best mouthwashes we can recommend. It does everything a mouthwash should and also strengthens enamel, removes stains, and whitens teeth which is about as much as anyone could expect from a mouthwash! To top it off it has a very affordable price tag. That said, if you are serious about whiter teeth, you will want a heavier hitter than just a mouthwash or else you will need quite a bit of patience.
In conclusion, we give Rembrandt Deeply White Whitening Mouthwash a 4/5 as one of the best whitening mouthwashes. Just remember if this is the only whitening product you are relying on, be patient. The whitening will be subtle and gradual over months. We recommend Rembrandt whitening mouthwash as a complement to a more powerful teeth bleaching solution or to maintain already whitened teeth.